As we optimize our sites and channels, it can be difficult to know what's working and what's not. We may understand our goals well: bring traffic to our site, attract more engagement, and turn visitors into customers, but measuring our progress towards those goals can be vague without firm numbers. To gain a better understanding of the success of our efforts and campaigns, we can establish marketing metrics to measure our goals with hard data.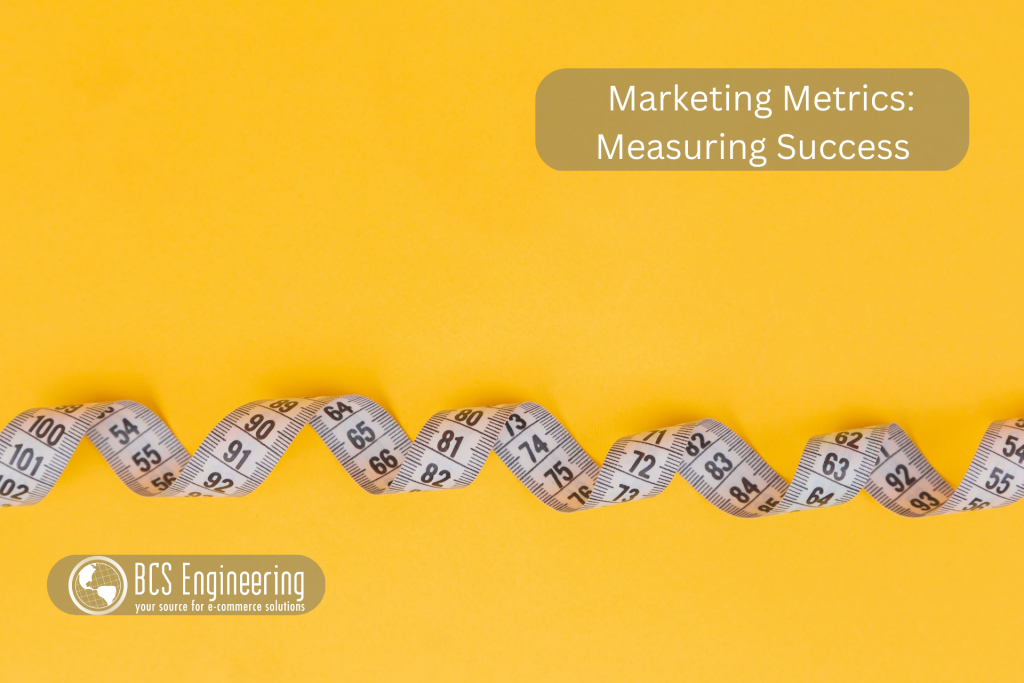 What are Marketing Metrics?
Market metrics are numbers that we can use to measure the progress we are making towards our goals. The metrics themselves can vary depending on our goals, but they are usually defined by interactions with our content and changes in the performance of our site.
Why are they important?
Having numbers to define the progress of our optimization efforts can help us understand where we should be putting our time and money. With metrics to track, we can start to identify if our changes and campaigns are truly making a difference. By measuring customer interactions, for example, we can start to understand what our customers want to see versus content that is uninteresting to them. We can start making more of the content that receives more attention: more likes, reads, shares, etc., while pulling back on the content that isn't attracting our customers. Overall, with marketing metrics, we can optimize the way we decide our next steps.
What are Common Marketing Metrics?
The metrics we decide to track not only depend heavily on the goals we have for our company, but also depend on the channels we are utilizing to improve our site.
Content
Content marketing is an easy and broad method we can use to attract more users to our site. Writing blogs, creating infographics, and sharing customer reviews are ways we can use content to encourage potential customers to interact with us.
Metrics that can inform us of the success of our content marketing efforts include things like page views, engagement time, and link clicks. For example, a successful blog topic will receive more page views than a topic that is uninteresting to your audience. Beyond the topic itself, the content within the blog can be measured by how long people read it. Were they there for a few minutes or a few seconds? Finally, if your audience enjoys your blog, they may click links within the article to explore your site further.
How to Track: Analytics Tools
In order to collect data on how users interact with our webpages, we need tools that have access to our site and that can collect data on our users. Some hosting platforms come with varying degrees of analytics tools, but to get a full picture of our site, we can use Google Analytics.
Social Media
Social media is a great way to reach your audience beyond your site as well as interact with people who have yet to encounter your products and services. There are a variety of social media platforms we could use, but almost all of them aim to engage directly with our audience.
The metrics we track on our social media channels vary per platform, but are all based on user interaction. Likes, shares, and comments are the most common types of interactions we can encounter. Likes can help guide us on what kind of content our users want to see on our social media accounts while shares can really point us to the content that is truly resonating with our followers. Comments, on the other hand, can suggest both good and bad results. Some comments can be positive and provide great direction on why users like a specific post. Comments can also be critiques of content that we can use to make our posts better in the future.
How to Track: Social Media Management Tools
Most social media platforms keep us up-to-date with new followers and post interactions. However, having multiple social media channels can make it hard to keep track of all of them efficiently. Social media management tools, such as Hootsuite or MeetEdgar, allow us to create, post, and track how our content is doing on all our social media platforms through one tool.
Email
Despite the popularity of social media, email marketing is still an effective way to interact with your audience. With emails, we can keep our users informed about our business, share special deals, and encourage users to check out our products and services.
To track the effectiveness of an email campaign, we can note subscribes, open rates, and forwards. Keeping track of how many users subscribe or unsubscribe can inform us on how effective our subscribe pitch is as well as how interesting our email content is. Open rates, much like page views on a blog, can help us determine if the topics we are discussing are of interest to our users. Tracking forwards is much like tracking shares on social media; it can help us identify content that resonates with our readers.
How to Track: Email Marketing Tools
In order to track how our emails are doing, we can use email management tools. AWeber, for example, can be used to create, send, and track how our subscribers are interacting with our email content. Management tools such as AWeber also allow us to breakdown our audiences into specific groups, enabling us to further optimize our content per customer type.
Site Performance
Beyond tracking content engagement, tracking how our site is performing is important in ensuring quality user experience. Following Google's Core Web Vitals, our site's performance can be measured by tracking the speed of our site.
To measure the performance of our site, we need to be looking at how fast our page loads, stabilizes, and responds. When a user first arrives to our site, the time it takes for our page to visually appear would determine how fast our site loads. However, even after our page loads, our page may not load entirely at once. The speed of which our site stabilizes, or rather, adjusts the content to its right location, is important to note when measuring performance. Lastly, with our site ready for use, noting how long our site takes to respond to user input, such as a click of a button, can help us understand the quality of our user experience.
How to Track: Performance Tools
There are a few free tools that we can use to measure the speed of our site. Page Speed Insights, GTmetrics, and Webpagetest are three tools that we can easily use to get an idea of how our site is performing.
Search Engine Optimization (SEO)
Even if our site and content are performing well, ensuring that our site is easily findable is key to bringing more traffic to our site. This means that we need to be able to create and measure Search Engine Optimization (SEO) strategies.
To measure how searchable we are, we should track keyword ranking, average position, and overall organic traffic. When optimizing our site for searchability, we want to identify the keywords that we utilize when it comes to user's searching for our content. Noting those words and how often our site is associated with them is important in identifying if the keywords we are using are successfully bringing traffic to our site. With the handful of keywords we do rank for, we want to note where we show up in search results. Are we in the top 5 results in a Google Search? Or are we a couple pages behind? Our position can say a lot about the whether or not we should keep focusing on certain keywords or phrases. Finally, we should keep track of how much traffic search results are bringing us as an overall baseline for how our SEO strategy is doing.
How to Track: Search Tools
There are a few tools we can use to check our SEO rank and relevant keywords. However, to see the a fuller picture of how our SEO strategies are performing, we can use Google Search Console, an SEO tool that shows us how Google ranks and presents our sites.
Want to Learn More?
By measuring our efforts, we can make clearer strides towards optimizing our website for more traffic and more conversions. Explore our other blogs to learn more about what you can do to improve your site! If you are interested in a more hands-on course about how to optimize your website, join the waitlist for Carrie Saunders' upcoming course, "The Converting Website." In this course, she will dive into important factors that aim to increase the conversion rates of your site!