There are many ways we can work to bring traffic to our online shops and websites. Optimizing user experience, refining our searchability, and using effective email marketing are just a few of the ways we can broaden our visibility. However, to create an effective marketing plan, we must keep in mind the many channels a potential customer can discover us through. One such channel is social media.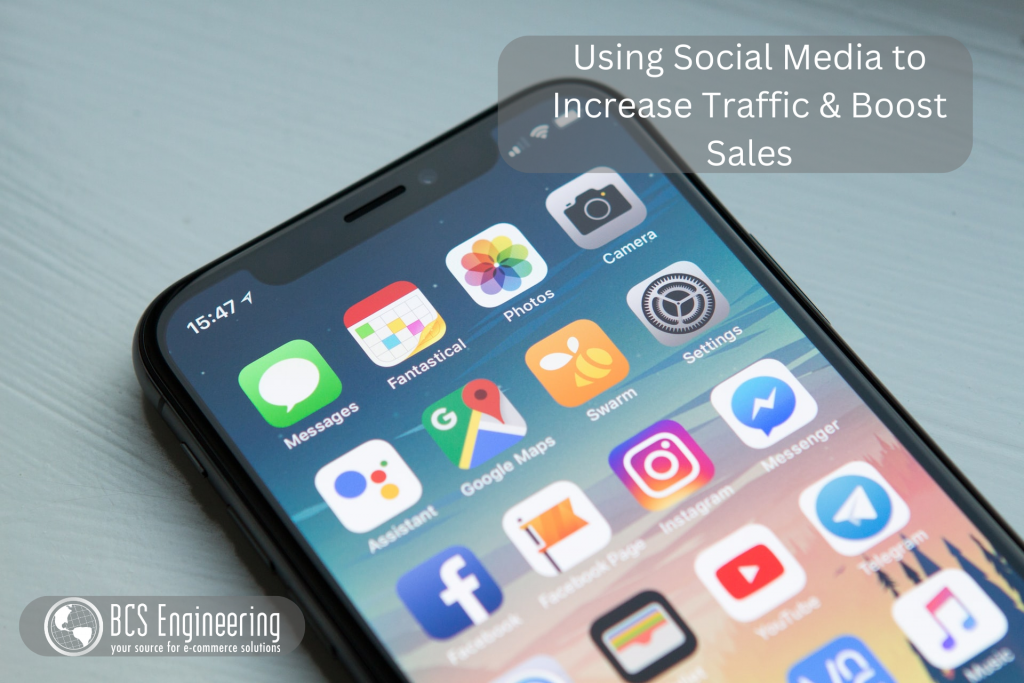 Many of us may already use social media for marketing or on a personal basis. These online communities are great places to establish your company's presence. While brick and mortar stores can rely on foot traffic to gain awareness and engagement, eCommerce businesses don't have that luxury. Unlike customers who walk in a mall and are exposed to a select number of companies, online customers have a worldwide range of shops to choose from, and many online shops can drown in the sea of competitors. Due to this, it is important to use every channel we can to reach our target audiences, including social media.
Why should I use Social Media?
Beyond creating a company presence, there are many reasons why we should include social media channels into our marketing strategies.
Increase traffic and conversions
Having multiple channels where users can discover your products and services can lead to more traffic on your site, and more traffic means more potential customers. Utilizing social media can help increase our conversion rate by increasing our business' visibility and engagement.
Establishes your brand
With any medium we use, whether it be emails, videos, blogs, and so forth, maintaining a consistent brand can do a lot to attract new customers and retain reoccurring ones. With more visibility with the help of social media, we can increase the awareness of our business' through exposing our brand to people on a more constant basis.
Creates opportunity for customer engagement
One benefit to social media is that it can keep your users engaged with your business even when they aren't buying your products and services. Users can interact with your posts and content with comments, reactions and shares, keeping your company in their memory for when they may decide to buy.
Provides an avenue for social proof
While you can create content to establish the quality and validity of your products and services, user reviews and stories are the best way to create social proof. User comments, tagged posts, and reviews can be created through social media channels and shared to our pages to increase the value of our business.
Cultivates an open dialogue with your customers
Social media offers a two-way street between us and our customers. Opportunities for customer feedback as well as competitor visibility can aid in our decisions on what to improve and optimize to create better user experiences.
What Social Media Platforms should I use?
With many social media platforms to choose from, it can be hard to know where to start. The key to this decision is knowing where your target audience can be found. Depending on factors such as their age, demographic, occupation, location, interests, and favorite hang out sites we can narrow down which social media platforms we should put our time and effort into. Choosing a platform to establish your company on can also depend on the content you plan to produce. Let's explore a few of the most popular platforms we could potentially use.
Facebook
Facebook is the largest social media platform out there. With a structure that is based on connecting with friends and following pages, its simplicity attracts a broad range of age groups. Facebook also offers a variety of content types to share such as text, links, images, and videos, making it versatile. Ideally, your customers would follow your business page and share your content with their network of friends and family, bringing more customers to your page that can share your content to their networks, and so forth.
Note: Successful Facebook Marketing can cost money
Due to how large Facebook's user base is, it attracts many competitors. Due to this, being visible on Facebook can be difficult without the help of Facebook itself. Many Facebook marketing plans involve a mix of paid and organic posts to work effectively.
Twitter
Twitter is popular with young to middle aged adults. The platform focuses on sharing user generated content with other users based on their interests. Entertainment and news are the most popular genres of content. Twitter is a great medium for creating a brand personality and for sharing company updates and blog posts.
Instagram
Instagram and Facebook are run by the same company but have different approaches to social media. Instagram has a more focused approached to content, allowing users to post only images and videos with small amounts of text. While Facebook is used to connect with people and businesses, Instagram mainly attracts an audience that looks for content based on their interests. It also boasts the title of being the favorite platform for Gen Z users. Posting high quality photos and videos of your products, services, and general experiences can aid in increasing the visibility of your business as well as make it more relatable to users.
YouTube
YouTube is one of the most popular places for people to visit on the internet. Currently its most popular videos concern video games, music, and reviews, but a decent chunk of watchers also dive into tutorial and "how to" videos as well. YouTube can be utilized to share product demos, tutorials, customer testimonials, and more.
LinkedIn
LinkedIn is a platform that is less about your customers and more about your team and business connections. The majority of users of LinkedIn are college educated professionals either looking for a job or promoting their business. It is a great platform to see what other companies are doing, hire new workers, and discover business opportunities with other companies or large clients.
How do I Create an effective Social Media Presence?
While strategies can vary per social media platform and can vary in cost, there are some basic best practices that can be followed no matter what channel you decide to pursue.
Be Consistent
Posting the same amount of posts at the same time per week can help make your business more visible. Once you know your audience, you can learn what times they are most active on social media and follow that time frame when posting your content.
Post Often
In the end, quantity outweighs quality when it comes to most social media strategies. We want our businesses to be fresh in the minds of our customers, and to do that we need to be sharing a lot of content. Posting at least twice a week is a good starting point as you get a feel for these platforms.
Note: Automation tools can streamline the process
While posting often and at specific times may sound overwhelming, it doesn't have to be! There are both free and paid tools available that will allow you to quickly create and schedule content to multiple social media platforms at once. Some examples of such tools are MeetEdgar and Hootsuite.
Have Variety
When creating content, you want to add some variety to it to grab the attention of your various ideal customers. Some examples of content we can share are news updates, inspirational quotes, promotions, giveaways, user reviews, Q&As, product advice, and many more.
Tailor your Content to your Audience
Since each social media platform is different and attracts different kinds of users, we will want to make content suited to each platform and audience. This will vary depending on who your ideal customer is and what platform(s) you decide to utilize in your marketing strategy. Create content that your specific audience will want to see by using words they will understand and addressing their interests and pain points with your products and services.
Want to Learn more about Optimizing your Website?
Social media is just one channel that we can utilize to bring more traffic to our sites and to turn visitors into customers. Check out more of our blog to learn more tips and tricks that can help you improve your website. If you are looking for hands on learning, join the waitlist for Carrie Saunders' upcoming course, "The Converting Website." In this course, she will dive into important factors that aim to increase your conversion rates through optimizing your website.