While eCommerce sites are mainly virtual stores where we can sell our products and services, having other pages on your website can aid in making us memorable and attractive. One way we can do this is by offering a variety of content themed around your customers interests and what your business has to offer.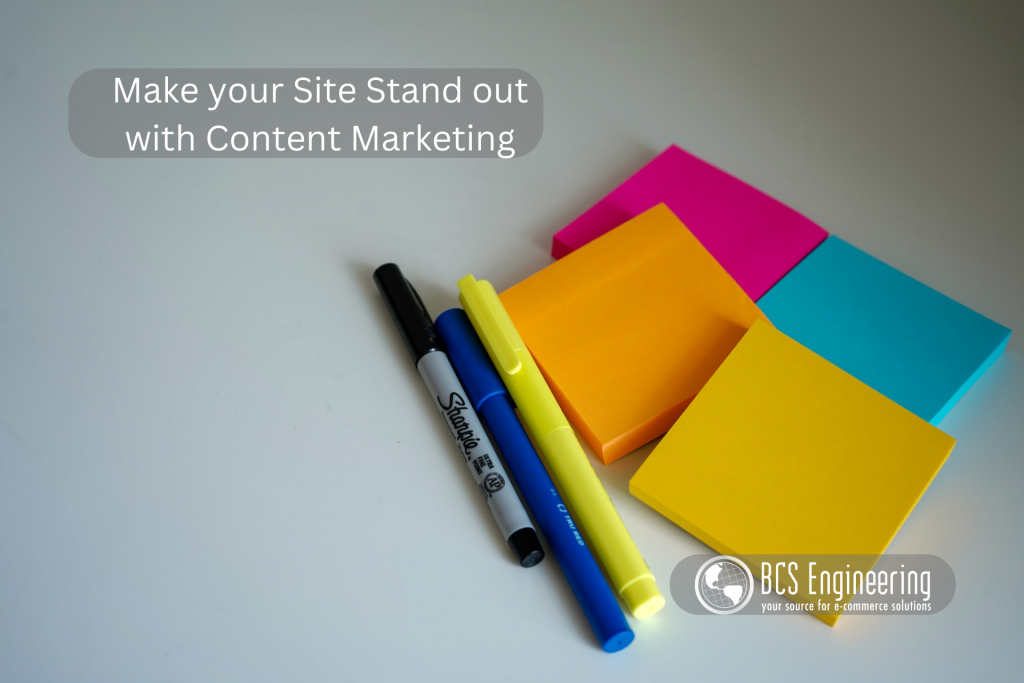 What is Content Marketing?
Content marketing is the process of creating content for your ideal audience that will aid in driving them to become customers. This method of marketing does a few things for us. It allows us to share valuable, interesting content that can attract customers, solidify our brand, and improve the user experience which can impact our SEO Rank. We are also encouraging customer loyalty through proving through our content that we are reliable and are experts in our field.
What Content Should I Create?
There are a variety of ways we can approach content creation, and at the end of the day, it really depends on who your customers are. Knowing your customers is key to effective content marketing. For example, a few questions to consider about your customers are:
What are their interests?
Where do they hang out on the internet?
How do they like to communicate?
What is their general education level about your field?
What are problems are they currently struggling with?
Having answers to these questions can help you 1) figure out who your audience really is, and 2) what content are they needing right now. Some of the best content you can create will involve solving a problem or answering a question your customers may have, as well as content that helps them understand their desires and goals.
What Types of Content Should I Consider?
Once you understand your target customer, you can choose from a variety of content types that will depend on your customer's communication preferences. Below are a few content types that you may want to consider.
Blogs
Blogs are one of the most straightforward types of content we can utilize on our sites. Writing about current content that is valuable to your users helps increase your credibility and also illustrate your brand as customer centric. Blog contents can range from news updates to advice, but overall should aid in informing the user on a topic they are interested in or that can help them in some way.
While blogs can be intimidating in terms of word length, they are quick to implement as well as the cheapest approach when compared to other types of content. However, the effectiveness of this method all depends on the quality of your blogs. Knowing what you customers want and providing them with information that can benefit them is key.
Infographics
At times, certain topics will be too complicated to explain with words alone. That's where infographics come into play. These graphics are visual representations of information and can aid in illustrating more complex topics with a mix of words and pictures. This type of content should be easy to understand and visually compelling. An example use case of an infographic could be to put a statistic into perspective by using visuals to show the value of that stat. You can also use it to illustrate the flow or steps of a process, the visuals helping users comprehend complex processes quicker and easier.
This form of content can be eye catching and engaging, but remember that just like with our other types of content, they need to provide value to our customers. They should help customers understand a subject and ideally remember that subject with the help of recognizable visuals.
Videos
Videos are great ways to share information quickly and in an engaging way. Company stories, product reviews, tutorials and more can be shared in the form of video, giving users the chance to get to know you, your values, and your products better. Since we can't show customers our products physically and some products are not tangible to begin with, videos can help put them into perspective. They are also a great way to establish the voice you want your company to have.
While videos are a bit more involved than other content, they can be useful in moderation on your site and can generate great results. Afterall, videos are very popular way to consume information as seen with successful social media platforms such as YouTube or TikTok. If you are worried about length, videos don't have to be that long, just long enough to convey some value.
Reviews
Sometimes, you will have potential customers that are interested in your products, but still uncertain about buying. The use of customer reviews and testimonials on your site can help relieve the ambiguity about your product's credibility as well as help people under what your products and services do. While you can write up content explaining why your business is useful, hearing real stories from customers that have been helped by your business can do wonders.
Getting reviews and testimonials could take time, but once you have them, they are free, valuable content that you can share in multiple places around your site. Keep in mind which review you decide to share as they will impact how people see your brand and your products. Aligning your selected testimonials with your goals and desired brand can help create clarity on what you are offering to your customers.
Want to Learn More?
Bringing traffic to your site is a constant process and it can be hard to know where to start or what you can do. BCS Engineering is always here help if you need changes made. If you want a deeper dive into what you can do on your own to optimize your website, join the waitlist for Carrie Saunders' upcoming course, "The Converting Website." In this course, she will dive into important factors that aim to increase the conversion rates of your site!