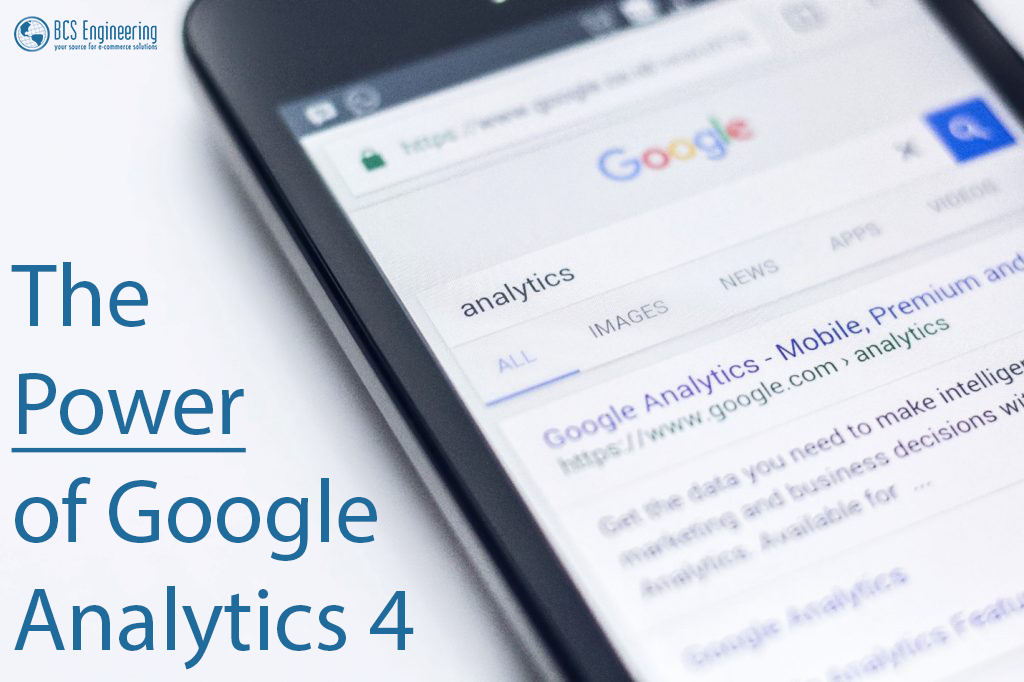 One of the most stressful aspects of maintaining a website is determining if your website is working for your business. The experiences and retention of your customers on your website can sometimes be hard to calculate, leaving you unsure of what is successful and what needs adjusted. On top of that, while there are many tools and methods to quantify the effectiveness of your website, sorting through them all and determining which one works best for you can be overwhelming as well as discouraging.
How do I make my website work for me?
In her upcoming course, "The Converting Website", BCS Engineering founder and principal engineer Carrie Saunders aims to help businesses approach the challenge of creating and quantifying a successful website. This five-week course will explore the tools and tactics to convert visitors into customers, module one of the course diving into the services you can use to evaluate and test your website.
What is Google Analytics 4?
Google Analytics 4 (GA4) is one of the tools discussed in module one of Carrie's upcoming course. GA4 is an analytics service that helps you track the traffic engagement of your platform across both your sites and apps . The improved service offers more granularity than its predecessor, Universal Analytics, by not only noting when a customer was on your site, but also collecting data about what a customer does while there. The advancement of this tool has led it to be pushed as the default Google Analytics service by July 2023, when Universal Analytics will be fully replaced by GA4. Thus, the switch to GA4 is strongly encouraged.
The highlight of GA4 is its variety of reports. Visuals of data concerning where customers are coming from and what pages draw their interest are detailed on the home page of GA4. Other reporting options such as real-time reports illustrate the impact of changes to the website, such as the addition of media or a new product, in real-time, offering transparent feedback about the successfulness of your adjustments. Furthermore, life cycle reporting, a report detailing how visitors convert to customers, and what those customers do once they have converted, are also featured. Overall, GA4 offers valuable data concerning how your site acquires, engages, monetizes, and retains customers, and is a powerful tool that can be started today!
Switching to GA4
In a few simple steps, you can get started with GA4.

If you are new to Google Analytics, you will need to make a Google Analytics account, creating a profile and your first property. After filling out the form, you will already be on your way to using Google Analytics 4.

For those who have been using Google Analytics in the past via Universal Analytics, the setup is just as simple.

1. Once logged into your GA account, go the "Properties" column, and click "GA4 upgrade Assistant."

2. From there you will be reminded that you are currently using Universal Analytics and asked to switch. Click "Get Started" to create a Google Analytics 4 Property.

3. A window will pop up explaining what will happen next. Click "Create Property".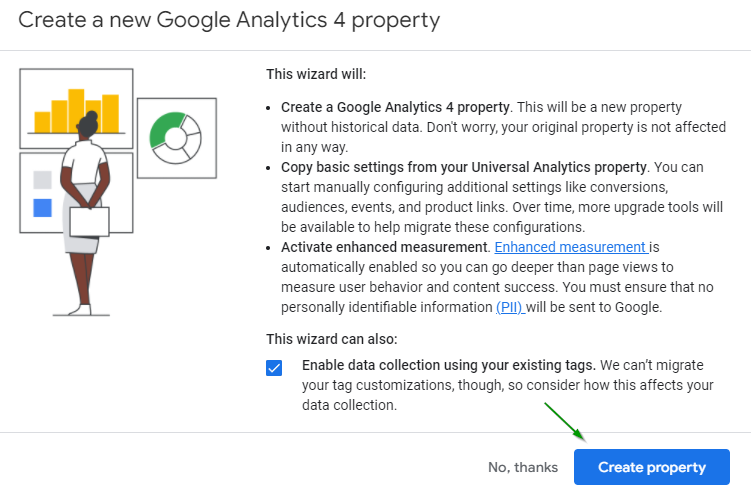 4. Your property will now be GA4 enabled.
An important thing to note is that whether you are new to GA4 or are switching to GA4, your property will fall into a default tag of gtag.js, which may not work with your type of platform. To adjust the tag for your GA4 property, complete the following:
1. Click the gear titled "admin" in the lower left-hand corner.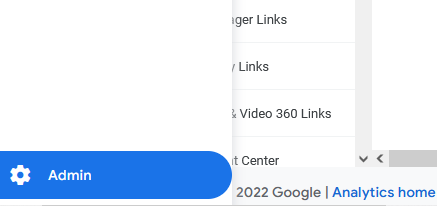 2. Next, make sure you are on the right property by clicking the down arrow under the property column. Once on the right property. Click "Data Streams."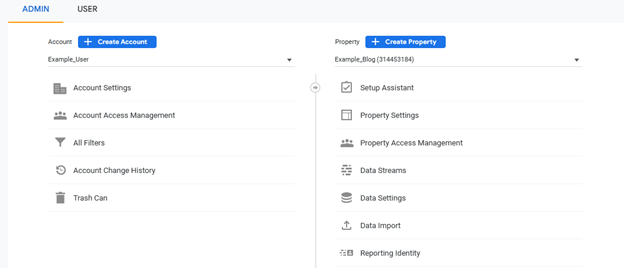 3. Under Data streams, click the website you desire to work with.

4. This will take you to Web Stream Details. Under "add-new on-page tag", expand "Global Site Tag (gtag.js)".

Depending on the platform your website is on, follow the instruction you find below and find your platform specific instructions by clicking the highlighted "these instructions." This will take you to a list of providers and will offer you further support per provider.
Can I Get Further Guidance?
Carrie's upcoming course "The Converting Website" will dive into further detail about GA4 as well as other useful tools and techniques for your business. Join the waitlist today to stay up to date about the course's release!