In previous blogs, we have explored Search Engine Optimization (SEO) in many contexts. From its benefits to the ways we can create SEO friendly websites and content, bringing people to our site via search engines is a broad topic. Another important aspect to consider when optimizing our sites for searchability is maintaining the hard work we have accomplished.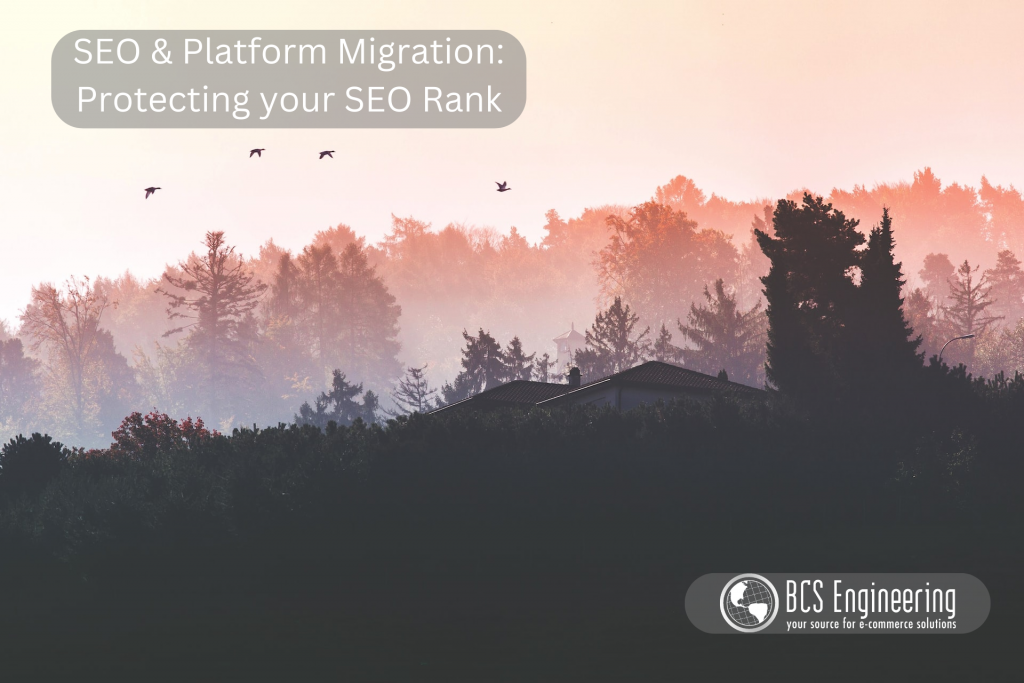 As our businesses grow and our needs and goals change, we may have to change the platform that we are hosting our online shop on. Such a major change can impact our current SEO ranking drastically. However, there are some key factors we can keep in mind while migrating our websites that can help us maintain our current SEO score.
Why is SEO Important to Think About when Re-Platforming a Site?
Major changes to our site can impact our online shop's functionality and quality, but also our sites visibility. When we re-design a page or add new content or features to our site, search engines such as Google notice these changes and review them. Sometimes, big changes can lead to re-indexing by Google, meaning that Google will re-evaluate your page's SEO rank.
Many times, our changes are aimed to positively impact our SEO rank, but changes can do the opposite as well. When migrating a site, not only could your SEO score change, but your site could lose its previous SEO score all together. Your SEO history is attached to your domain, and so changing your domain can result in total re-evaluation. Keeping this in mind when migrating your website, which will inevitably involve changes, is very important for us to keep our current traffic.
What should I keep in mind for an SEO friendly migration?
Before Migration, Document Your Current Site
Before migrating your site, benchmarking your website both in terms of functionality and in terms of SEO is an important step to take. Knowing where your site stands now is key to identifying any changes that may occur once you have migrated your site.
Documenting all of your existing content is also important in maintaining your current SEO score. Every URL should be noted, even if they are not your top pages. While doing so, also note any broken pages as they can be fixed during migration.
When Migrating your Site, Save Changes for Later
While we may have ideas to improve out sites during migration, it is best to save those plans for later. In order to ensure that we maintain our current SEO score and can troubleshoot SEO problem later, we must keep changes minimal. During migration, your new site should reflect your old site as much as possible. This includes content and structure. Wait to remove pages you plan to discontinue or new features you want to incorporate in your future site. Document your changes for future use.
Consistency is key to maintain your SEO score, so we must pay close attention to every part of our site. This includes transferring over things like page titles, meta descriptions, robot.txt files, sitemaps, and more. Anything that can be seen by Google's crawlers is important to keep consistent in your new site.
Note: Migrate in Sections
One method we can use during migration is to migrate our site piece by piece rather than all at once. We can start with less important sections of our site and see what changes occur. Migrating in sections helps us see what we may need to adjust in our migration strategy as well as gives us some practice for when we migrate more critical parts of our online shops.
Redirect Every Page
When migrating your pages to your new platform, make sure that you redirect your old pages to your new pages. This will not only ensure that users trying to use your old URLs will be able to reach your new site, but also will help inform search engines that your pages have moved. This includes changing any existing redirects to lead users to the correct content.
When redirecting pages, it is best to use a one-to-one method. This means that each page is recreated on your new platform and is redirected to it. While it may be tempting to do many-to-one redirects, such as guiding users on older product pages to a page with a collection of products, it can negatively impact your SEO score.
Monitor Duplicate Content & Errors
During migration, you will run into the issue of duplicate content since you are duplicating your website. Duplicate content can negatively impact our SEO scores. However, there are a few things we can do to avoid our score dropping due to page creation:
Use 'noindex' tags – During migration, we will inevitably run into the issue of having duplicates of every page of our site. To avoid impacts to SEO, make sure to use 'noindex' tags on your new pages. This tag will tell Google's bots to not index this page, which will keep search engines from noticing the duplicates for the moment. Note that these tags must be removed once we want to go live on our new platform.
Keep in mind HTTP to HTTPS changes – During migration, you may want to enhance your sites safety and reputation by securing your site with HTTPS as suggested by Google's Search Essentials. However, keep in mind that HTTP and HTTPS pages are considered two different pages and may result in duplicate content. Make sure to redirect HTTP pages to your HTTPS pages to avoid impacts to SEO.
Use canonical URLs – Canonical URLs are a way that we can tell search engines what page we would want them to send users to if there is duplicate content. By using canonical URLs, we can tell Google that we prefer that users be led to our original content while we are working on our new pages.
Keep Mobile in Mind as you Migrate
While we want to keep changes minimal while we migrate our site to a new platform, we should be paying close attention to how our new site runs on mobile. Search engines like Google have taken to indexing mobile sites first, which can impact our SEO score if we are not careful. This means that we need to make sure that our mobile site is optimized. It should feel fast and adjust to smaller screens to be readable and easy to use.
Note: Avoid hidden content
Some developers hide content in mobile view that would be visible on desktop in order to increase readability and speed. However, hidden content is noticeable by crawlers and can negatively impact our SEO scores. When optimizing your site for mobile, avoid hiding content and instead adjust the content to suit mobile use.
Document any Tools or Services that you have currently Incorporated into your Site
Besides migrating pages, we will want to document all the tools we may use on our site as well. These could be analytics tools, crawlers, or plug-ins that we are currently using. Create list of these features and take a look at their documentation if they have guides for migrating the tool itself and the data it has collected. For tools that are not compatible with your new platforms, consider looking for a substitute to incorporate during post-migration.
Create a Post Migration plan for SEO
After migration, you will want to have a plan to analyze and troubleshoot your new site. This includes keeping an eye on your logs and analytics for changes in traffic and rank. With minimal changes to your site, finding the source of these changes should be easier.
Aside from troubleshooting, starting a new platform means we have new opportunities to explore. While during migration we suggest keeping changes to a minimum, after migration we can continue optimizing our site for user experience, quality of service, and SEO. Optimizing searchability is a continuous process, so create an SEO plan for your future online shop to push your site further!
Want to Learn more about SEO?
For your post-migration plan, there are many ways that we can optimize our websites for both SEO and improved user experience. Explore our SEO blogs to learn more tips and tricks to improve your ranking! If you want more hands-on guidance for improving your website, join the waitlist for Carrie Saunders' upcoming course, "The Converting Website." In this course, she will dive into a variety of important factors that aim to optimize your website.