With the popularity of smartphones, many first-time users of our site will be visiting from their phone screen rather than on a desktop computer. In order to ensure that our site makes a good first impression no matter what device users are coming from, we need to create sites that are mobile friendly. This means our site should adjust appropriately to the device it is being viewed on.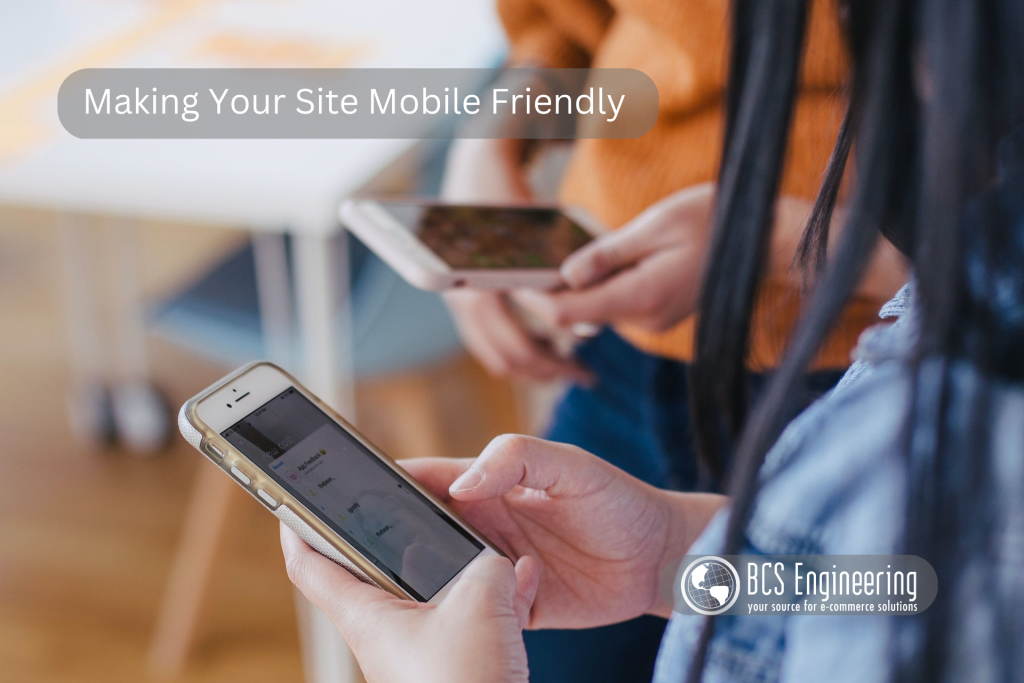 Why are Mobile Friendly Sites important?
Beyond the fact that many eCommerce customers shop via their phones, there are other benefits to making our online shops and websites mobile friendly.
To start, having a quality mobile site can increase your ranking in search engines. Some search engines, such as Google, not only incorporate mobile friendliness into their ranking criteria, but they also have taken to ranking mobile sites first. This means that, even with a quality desktop site, your mobile site may be reviewed for search results instead, impacting your SEO score.
Other than SEO, having a good mobile site directly impacts user experience. With the potential of visitors viewing your site on their phones, we want to make sure that our site shows the best our company can offer. This includes things like fast loading times and complete access to the same features your desktop site offers. By having a quality site no matter the device, we can create an experience that positively impacts our reputation and encourages reoccurring customers.
What Makes a Site Mobile Friendly?
Mobile Responsiveness
When visiting your site on mobile, it may be hard for users to interact with your pages if they are the same size and format of your desktop site. If your site is too difficult to use, a potential customer may leave before giving your products a chance. To avoid this, a responsive design on your website is a must have. A responsive site is a site that is able to reformat itself to the screen size it's on. This means that, if your site is visited on mobile, the page's text, buttons, menus, and so forth will be resized for better use on a smaller screen.
Adjusted Navigation
A responsive mobile site will not only adjust the pages themselves, but also the navigation menus and search features as well. On mobile, a full navigation menu could either take up too much space, or be too small to interact with. Instead, the menu should be resized and reformatted. Many sites utilize the "Hamburger Menu" for mobile view. A hamburger menu appears as a button that users can click to open up the menu as well as close it. This allows users to explore your site without the menu being in the way while also keeping the menu properly sized and usable.
Note: Make Your Search Option Obvious
A part of making your site mobile friendly is making it easy to find the content a user is looking for. However, even with adjustments to size and navigation menus, it still may difficult to locate specific pages on such a small screen. Having a search option easily accessible and clearly visible can give mobile users another option to use when exploring your site.

Readable Text and Buttons
On a small screen, reading content and clicking buttons can be a difficult task for users. Some users may click a button only to accidentally hit another, or even miss it entirely. Zooming in to read small text can quickly become a chore while exploring your site. To avoid discouraging your user from using your site, your site should have bigger text and optimized buttons for mobile use. Text should be readable without zooming in and buttons should be adjusted for touch rather than clicking. Making your site easy to use and readable will help keep users on your site longer.
Optimized Visuals
While our banners and videos may look great on a desktop computer, squeezing those visuals onto a smaller screen can result in diminished quality and usability. Especially with our Above the Fold content, we want to make sure that the presentation of our visuals translates over to mobile view. This means that our site should resize these visuals and re-arrange them according to the device they are on.
Note: Hiding Features can Negatively Impact your Site
When adjusting our site to mobile view, we may be tempted to hide certain features and images that are available on the desktop version of our online shop. However, hiding content from viewers can impact your SEO score. While your users can't see the missing content, search engines like Google can tell that you have hidden content from the page. Google does not approve of hidden content and will note it when ranking your site. Avoid hiding content and instead reformat the content the best you can for mobile use.
Want to Learn More?
Improving our site for user experience is key to bringing more traffic to our sites, and thus attracting more potential customers to consider our content and products. Explore our other blogs to learn more about what you can do to improve your site! If you are interested in a more hands-on course about how to optimize your website, join the waitlist for Carrie Saunders' upcoming course, "The Converting Website." In this course, she will dive into important factors that aim to increase the conversion rates of your site!