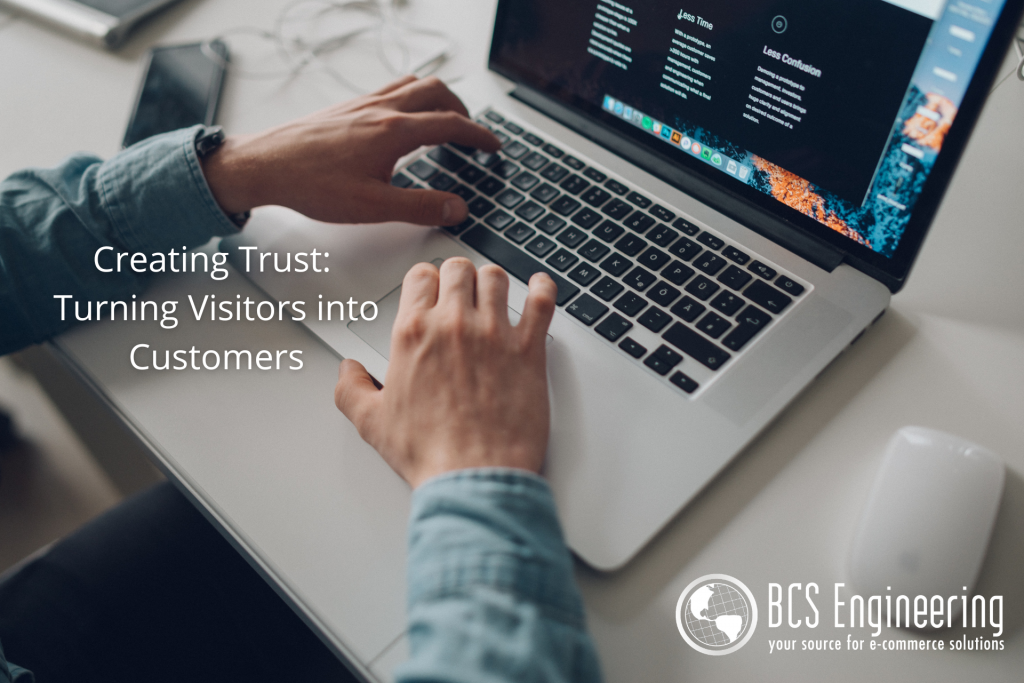 There are many aspects of your website that encourage visitors to become customers of your business. One thing that these factors have in common is that they create a sense of trust between you and your customer. When you meet someone for the first time, the impression you create can determine if the individual wants to pursue a relationship with you. Creating a sense of competency, transparency, and relatability can go a long way in attracting customers to your business. Let's explore some of the ways you can create trust through your business' website.
Competency
Language
When a potential customer arrives at your site, they want to feel like you are an expert on your product. However, this requires that you not only understand your product, but also understand your customer. Avoid the use of jargon or complicated words in favor of clear, simple language that your customers can understand. You also want to emphasize how your product will improve their quality of life. Keeping your text focused on your customer will help keep them engaged. This will not only suggest to customers that you understand them and your product, but that you don't need to hide behind complex language and irrelevant details.
Good Experiences
Another factor that suggests competency is utilizing customer stories to advertise your product. While we can say a lot about our products, our words may be considered biased to some customers. Text reviews, photographs of customers using your product, or even videos can help potential customers gain trust in your services. Make these stories visible on your website by sharing them in high traffic areas and near the products in question.
Visibility
Competency can go beyond your webpage. Using search engine optimizing (SEO) to your advantage can make your business more visible to potential customers. As discussed in our previous article, your position in search queries is determined by your rank. A higher rank indicates that both search engines and users find your site useful and relevant. We can further show how well our products are doing by showing our ratings or reviews in search results as well.
Transparency
Security
Keeping your customers informed on your company's practices creates a sense of transparency. This can make customers more comfortable with your business. One way we can do this is by adding security seals to our pages. These seals are visual logos that link to the certificates that protects your site. Having security seals on your website makes it clear that you value your customer's digital safety, encouraging trust. Another visual representation of security that people notice is the small lock that pops up in the address bar when a site is HTTPS enabled. Small things like these create good first impressions and impact your SEO ranking in a positive manner.
Location
Another small change that impacts your customers' trust can be found in your contact page. While not applicable for all companies, including your physical store address can be to your benefit. Knowing that there is a physical location can reassure customers and offer them a different avenue to purchase your products as well as address questions or issues they may have.
Checkout Process
What happens during the checkout process of your site can impact the trust your customers have in your company. The uncertainty of how much an item will cost after tax, how long it could take to arrive, or if there will be certain options available can make potential customers wary to buy your product. Being forthright with such details in the beginning can ease such concerns. Explaining what will happen during the checkout process allows customers to understand what expectations they should have. If your checkout process has no surprises, your customers are more likely to feel comfortable enough to complete their purchase.
Relatability
Your Story
Last but not least, customers can at times feel like all companies care about is money. To avoid this perception, try sharing your story with your customers. What is your company's mission and goals? How do you want to grow? These are aspects of life that we can all relate to, in one way or another. It establishes your company as not just a logo, but a place where people work and are trying to achieve things. Customers can find this relatable and humanizing, making them more willing to begin a relationship with your company.
Want to learn more?
We at BCSE are always here to help! If you are curious about how you can further create trust on your website, contact us! Carrie's upcoming course, "The Converting Website", will also explore many ways you can improve the conversion of your online business. Join the waitlist today to stay up to date with its release!