The popularity of E-Commerce has pushed all sorts of businesses to open online stores. Consumers can find almost any product with the click of a button using the internet. On top of that, search engines can provide a wide selection of companies to choose from. Making your company stand out is key to beating the competition. One way we can make our products stand out is through product descriptions.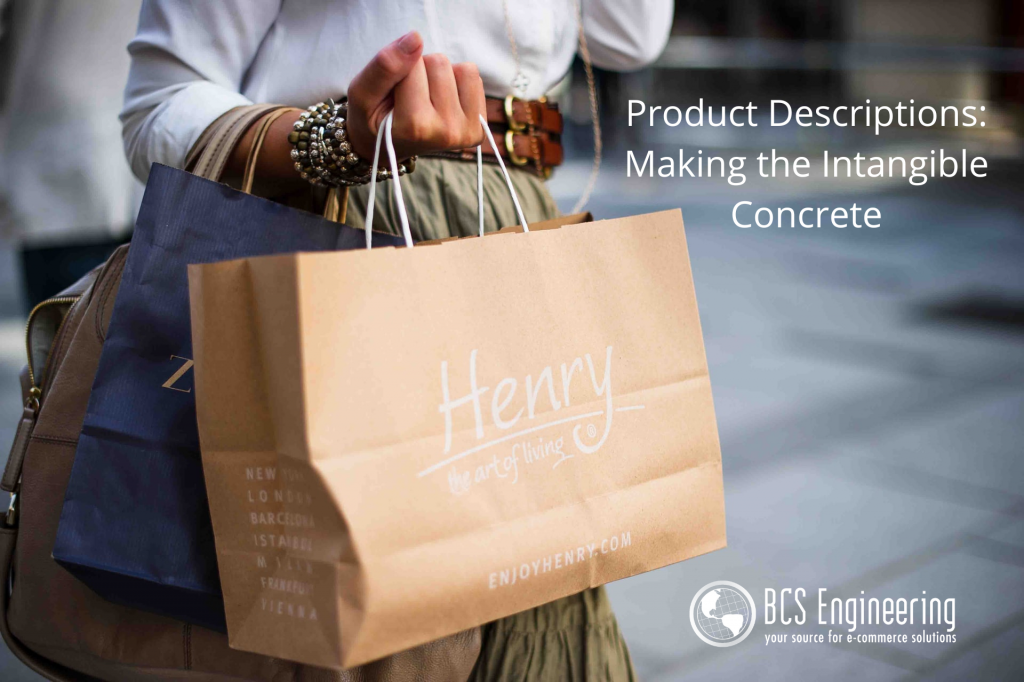 What makes Product Descriptions so Important?
With brick-and-mortar stores, customers can walk into a store and physically interact with a product. They can see what it looks like on the shelf, can ask a nearby sales representative questions about it, and may even try out the product before purchasing it. Online stores do not have that luxury. Instead, we have to work harder to make these products feel like they are real.
Photographs and text descriptions are the most important selling points for online products. Quality images and informative text help make your product tangible for online customers. Understanding what your product is, how it works, and what it can do for the customer are key to converting users into customers.
How do I Improve my Product Descriptions?
Remember your Audience
The first step in making good product descriptions is to know your audience. You may understand your products like the back of your hand, but how do customers see your product? How do they talk about it and search for it online? Identifying the words, situations, and value of your product can help you optimize your product description.
While focusing on your product from the customer's perspective, it is also important to identify the problem your product solves. A potential customer may not know the name of the product they are looking for. Instead, they may search for an unknown product that solves a specific issue. Incorporating these uses into your product description can help bring new customers to your site.
Keep it Simple
While we can go into grand detail about our products and share our feelings about how great they are, too much detail can push customers away. On one hand, your product description should stand out when compared to others. Using the generic manufacturer info alone to describe your product will cause your product to blend with similar items. on the other hand, however, over describing or relying on clichés and superlatives to make your item stand out can cause customers to distrust or misunderstand your product. Overall, it is best to keep your descriptions simple and straightforward.
In our previous article, we discussed search engine optimization. The use of keywords can help guide search engines through our site when determining our rank. While we want search engines to rank our content highly, user experience should always come first. We are writing product descriptions for humans, so our descriptions should convey the human value of the product rather than just the associated keywords.
Use your Story
Product descriptions are an avenue to establish a relationship with your customers. A defined voice or narrative through your product descriptions allow you to share a bit of who your company is. You want to show that your product is a good experience. Illustrating that through your story and goals can make your product more enticing and help your company stand out.
Another way to illustrate your company's story is through user experiences. Who better to sell your product than customers who already bought it? Whether it be visuals of customers using the product or written reviews, customer stories can help explain your product to other potential customers.
Converting visitors into Customers
In her upcoming course, "The Converting Website," Carrie will explore the variety of ways you can optimize your website to increase visitor to customer conversions. Join the waitlist today to stay up to date about the course's release!