As we optimize our sites for better user experience and higher search result queries, we may consider doing some spring cleaning to our site's content. This includes looking through pages on our site that are not doing so well. Little traffic, out-of-date information, questionable relevancy: letting older pages linger can impact the quality of our site. However, how do we deal with older pages without negatively impacting our SEO scores?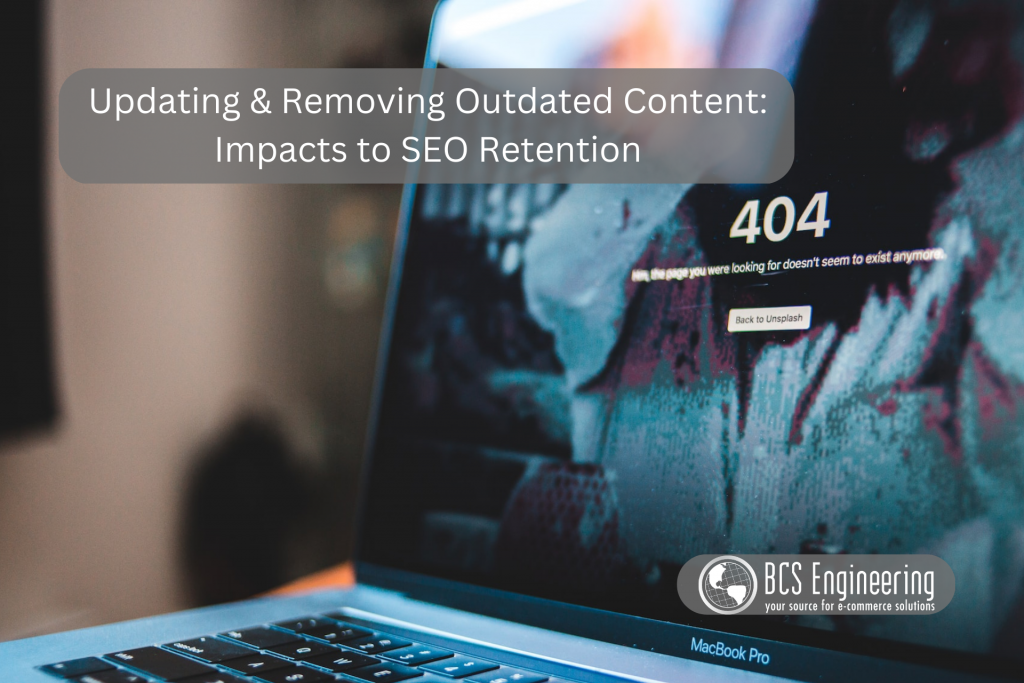 What is outdated content?
When cleaning up our sites, we may run into outdated content. Outdated content is pages that are no longer relevant or helpful to your customers and company goals. This includes:
Pages with incorrect or old information.
Pages for discontinued products or services.
Pages that are no longer relevant to your business or customers.
Pages that are broken.
Why should I clean up outdated content?
In order to make sure that our site properly represents our business, we need to make sure all our pages are up-to-date and contain quality information. Outdated pages bring down the quality of our site through being unusual, misleading, and minimal traffic. Worse, these pages can result in more "bounce" traffic where customers leave our site after arriving on outdated content. Cleaning up these old pages, such as deleting them, can help us avoid customers leaving our sites while increasing out SEO rank by having more quality content as a whole.
What are the risks of cleaning up outdated content?
One risk to consider when cleaning up outdated content is whether or not the content has value to users or your SEO score as a whole. Is the information on that page important? If so, deleting important page can cause issues for your customers down the line. Another aspect to consider is the link equity of your pages. If your old page is linked to many other pages, it may be valuable in terms of the level if authority it has in the eyes of search engines. Deleting such page could negatively affect your SEO score.
What are my options for dealing with outdated content?
Since outdated content can affect our websites in varying ways, there are multiple options to handle these pages. In terms of the most common actions we can take, we can update the content, redirect it to relevant content, or delete the page entirely.
Update the Page
If the outdated page contains important information and still gets traffic, you may consider updating the content. Afterall, customers are still visiting the page. Whether that be due to the page having link value through its linkage to other pages or due to the value of the information it contains, if a page has potential, it should be updated rather than discarded. Another aspect to consider for pages that still have incoming traffic is if there is another existing page that fulfills the same role. If there isn't, it becomes more important to update the page so that users are getting accurate information.
Redirect the Page
If the outdated page contains information that exists on another, up-to-date page, you may consider redirecting the outdated page to the new page. You can redirect a page via a 301 redirect or a 302 redirect status code. A 301 redirect tells Google that this redirect is permanent while a 302 redirect is a temporary measure. Keep in mind that while redirects are useful, having too many redirects can slow down your site and impact your SEO rank, so use them sparingly.
Delete the Page
When you have a page that is completely obsolete, that provides no value in terms of traffic, authority, and relevancy, you may consider deleting the page all together. You can delete a page via a 404 status code or a 410 status code. More commonly used, a 404 status code deletes the page, but doesn't necessarily remove it from Google indexing. A 410 status code tells Google the page is gone forever. While it may sound strange that 404 codes are more popular, they are easier to implement and also allow us an opportunity to connect with customers who are still looking for that page by making our 404 page valuable.
Note: Make Use of your 404 Pages
One way we can use our 404 status pages are to make them valuable. We can edit our 404 page to not only be branded, but also contain easy access to our home page, related links, our search bars, and so forth. By making use of our 404 status pages, we can encourage customers to explore our site despite the page they visited being gone. Having a personalized 404 page can help keep customer bounce rate down, keeping customers on your site longer.
Want to Learn More?
There are many aspects we need to consider when improving our user experience and optimizing our SEO ranks. Explore our SEO blogs to learn more tips and tricks to improve your visibility! If you want more hands-on guidance for improving your website, join the waitlist for Carrie Saunders' upcoming course, "The Converting Website." In this course, she will dive into a variety of important factors that aim to optimize your website.