X-cart Responsive Template – Mobility
Fully Responsive Template, Foundation based, SEO Skin!
Clean, Fast, with modern features!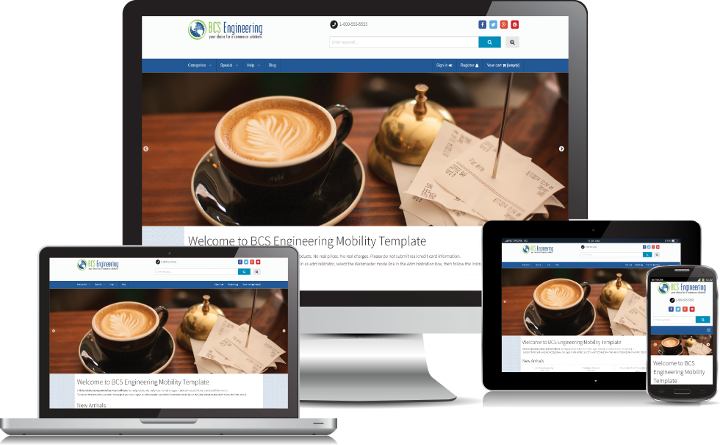 X-cart Responsive Template, Mobility, is available for 4.6.x AND 4.7.x.  Contact us if you'd like us to create it for your version of X-cart!
Tired of the boring old built in templates?  Want something modern, fresh and easy to customize?  Then the Mobility X-cart Responsive template is for you!
Main Features
Easy Installation
Fully Responsive
Drag and Drop Store Logo, Invoice Logo and Email Logo
Optimized One Page Checkout for conversions
Configurable layouts in the admin

Options for the home page
Options for the product pages
Options for the category pages
Options for the static pages

Search Engine Optimized HTML
Seamless wordpress integration
Vacation/Announcement Message option that appears on every page
SEO rich snippets
Sticky Header option
Easy to modify themes!  – Pick your colors in the admin!
Low cost for an easy customized skin!
Unlimited Colors and customizations!
Layout Options
Individually Select Layout options for Home Page, Product Page, Category page and Static pages

1 Column
2 Column – Sidebar Right
2 Column – Sidebar Left
3 Column

Upto 4 footer column options, including options for:

Twitter Feed
Pinterest Feed
Instagram Feed
Facebook Feed
Static Pages Menu
Newsletter
Speed Bar
Hard Coded links

Browsing Transition Options Include

Fade
Slide Right
Slide Left
None
Transition Speed

Page Width Options
Center Content Style Options

Contained (Shows center content in a framed area)
Open (Shows center content unframed)

Category Location choice of Top Bar or Side Bar
Manufacturers Location choice of Top Bar or Side Bar
Home page Content -Choose from default home page of banner and featured products or Static page of your choice!
404 Page Content – Choose from default home page of banner and featured products or Static page of your choice!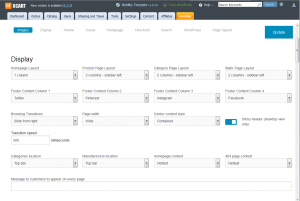 Theme Options
Unlimited Color options!
Pick a Reference Color and 8 more theme colors will be automatically generated!
Optionally adjust each of the 8 theme colors to your liking!
Background color options of Solid or Repeating Pattern
Unlimited Repeating pattern options!
Fully Customize Button Colors!

Main Buttons
Success Buttons
Secondary Buttons
Alert Buttons
Info Buttons
Disabled Buttons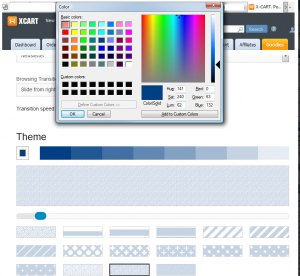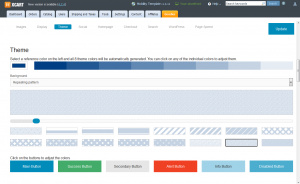 Social Options
Facebook URL
Twitter URL
Twitter Username (for feeds)
Google Plus URL
YouTube URL
Pinterest URL
Tumbler URL
Instagram Name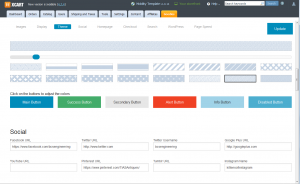 Home Page Options
Banner Position Options

Within Page Content
Full Page Width
None (no banner)

4 Banners with links to help promote products or sales!
Drag and Drop images to update banners!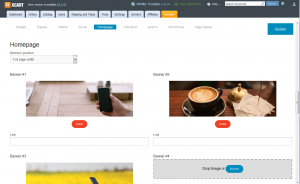 Checkout Options
Cart on Left with Checkout process on right
Cart on Right with Checkout Process on left
Cart Narrower than checkout process
Cart wider than checkout process
Cart same size as Checkout Process
Special optional checkout message to customers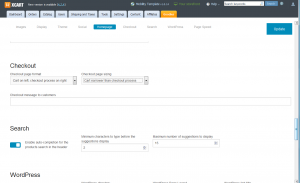 Search Options
Enable/Disable Auto-completion for products in the search header
Minimum number of characters before auto-completion suggests
Maximum number of suggestions to display
WordPress Options
Enable WordPress Integration
Directory for wordpress
WordPress Layout options

1 Column
2 Column – Sidebar Right
2 Column – Sidebar Left
3 Column

WordPress Link Title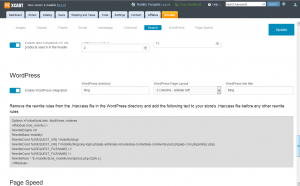 Page Speed Options
Enable/Disable Lazy Load Images
Minify CSS
Minify Javascript
Minify HTML