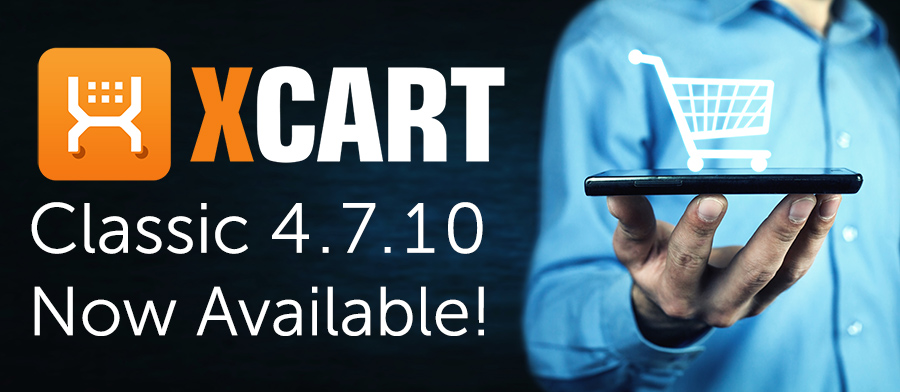 X-cart 4.7.10, the latest update to the "Classic" branch, just announced . This version brings several improvements for site speed and reliability, as well as enhancements for SEO, GDPR, and third-party integrations.
Major Changes
Improvements for Site Speed and Optimization (native CSS and JS minification, widget improvements).
Security Improvements (including changes to cookies to ensure PCI compliance).
X-cart now supports Guest Checkout for the Paypal Module.
X-cart 4.7.10 now fully supports PHP 7.
Ready to Update?
How to go about updating your store to X-cart 4.7.10 highly depends upon your current environment. If you are using a version prior to 4.7.0, you will need to consider reaching out to a professional for help with your upgrade.
If your store is currently running one of the previous 4.7.x releases, upgrading should go relatively smoothly, however we still recommend that you take some precautions:
Never upgrade a live store. You should maintain a development environment for your store, so that you can try out upgrades in a test mode, and ensure that nothing breaks.
Always have a backup. Both your site's file and database should be copied before you apply the patch.
You can obtain the upgrade packs from your customer area. Make sure you following the instructions for applying the file and database patches precisely. More information on upgrading is available on the Wiki.
We strongly encourage you to seek assistance from an experienced X-cart developer when upgrading. This is especially true if your store is currently running version 4.7.0 or earlier.
Need Help?
Our team has been developing custom modules, hosting and maintaining X-cart sites, and helping stores grow since 2002! We're ready to help you upgrade today. Contact us now to discuss how we can bring your store up to the latest X-cart 4.7.10.