For several small-to-medium sized internet businesses, approaching SEO (search engine optimization) can be very daunting. A lot of small, online businesses might be adept in the niche of their services, but levels of "tech-aptitude" can vary greatly. In this article from SitePoint, several tips are given on how to improve search rankings. Some of these tips are very easy to implement. For the ones that are not, references are given on where to look or how to get started.
One of the more timely tips, is to ensure your site is mobile-friendly due to Google's recent changes to their search algorithms. Our previous post on this change can be read here. Google's change will affect your search results on mobile devices. However, since more and more people are using mobile devices as their primary (and often only) way to access the internet, this is extremely important for any site's visibility.
Another of the tips discusses content – most importantly, proper use of keywords and ensuring the generation of new content. As the SitePoint article mentions, it is much better for you to check with Google to find what keywords are being searched as opposed to guessing on your own. This is particularly important if you have a niche industry. People might not be 100% familiar with what they are searching for, so they might use related terms in searches that you might not have considered. The image below from the SitePoint article shows keywords in use: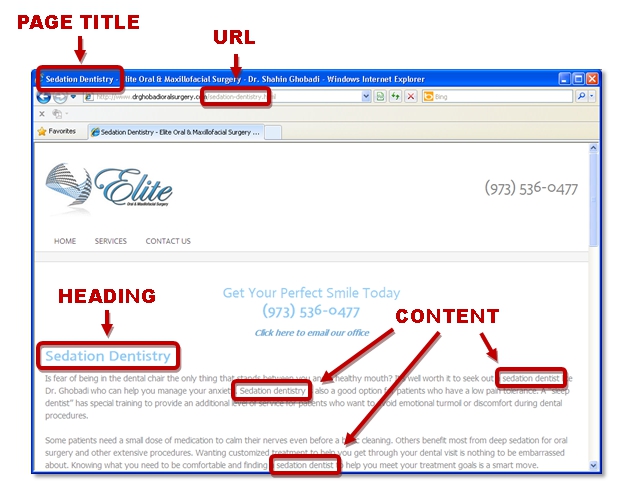 However, content and mobile-friendliness are just a couple of the topics discussed in the previously mentioned article. If you are looking for clarification or help on SEO concepts and starting points, you should read the full article.