When it comes to measuring the success of a website, conversion rates are a great metric to track. Not only do conversion rates give us an idea of how well our site is attracting user interaction, but it also gives us a number to target when it comes to future business goals. However, what is considered a good conversion rate?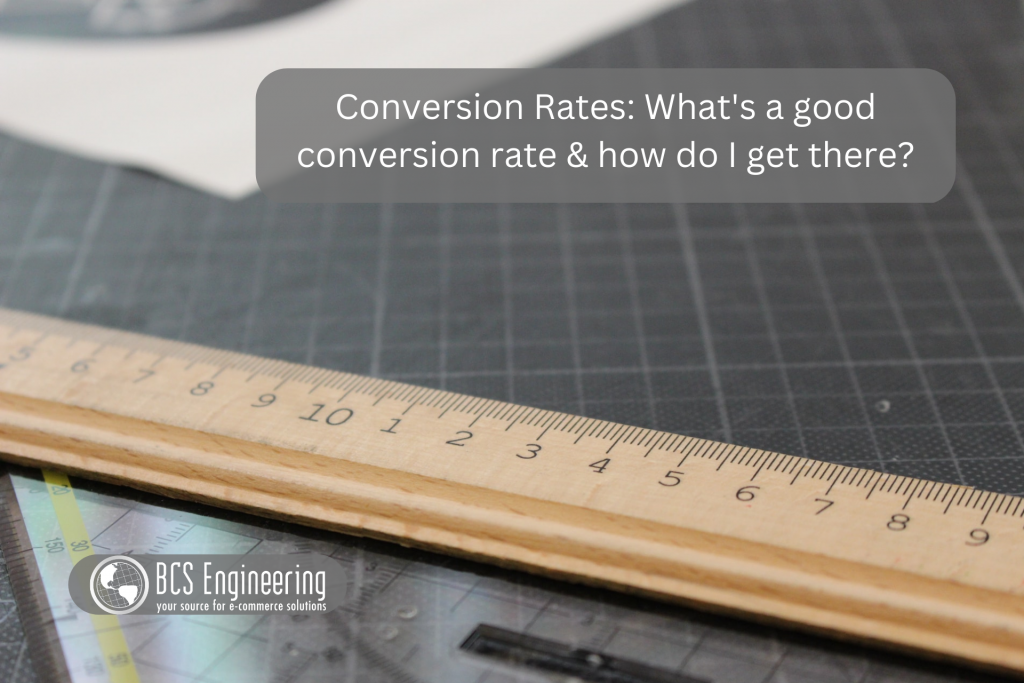 What are conversion rates?
Conversions are actions we want users to take. Whether it be buying our products or subscribing to our email lists, conversions can be any user action that we consider valuable to our business. For example, conversions we may want to measure could be:
User Sign ups for email, events, text message notifications, etc.
Account creation.
Social media interactions, such as follows, likes, shares, etc.
Downloads of freebies and promotional materials.
Product reviews or ratings.
Views or clicks on specific pages.
Products added to cart or schedule consultations.
Purchases of your products and services.
Our conversion rate is the percentage of users who convert over the total number of user interactions. For example, if we were measuring the conversion rate of users subscribing to our email list, the rate would be the number of users who submitted the subscription form over the number of users who clicked on the subscription page.
Why are conversion rates important?
Conversion rates are key to identifying how well your online business is doing. Whether it be purchases, open rates on emails, social media followers, or so forth, knowing how often users end up doing what you want can be used to identify what you need to do in the future. Pages with high views and clicks, for example, can help you understand what your users want to see. The same applies idea applies with low conversion rates. If your email subscription form's conversion rate is low, it is a sign that it may need re-worked or edited. Overall, by having a metric that reflects the success of your desired business goals, you can approach optimizing your site with data-backed decisions.
What is a good eCommerce conversion rate?
When people talk about conversion rates, they are often talking about eCommerce conversion rates. eCommerce conversion rates are the rate of overall user purchases and orders. In the case of monetary gain, a good eCommerce conversion rate is between 2% – 5%.
How do I increase my conversion rate?
Meet the customer where they are
The first step to increasing your conversion rate is making your customers feel seen and heard. To do this, we need to know our target audience intimately. What are they struggling with? What are their obstacles? What kind of solution are they looking for? Having answers to such questions allows us to create relatable and appealing content by clearly showing them that we understand what they want and need.
Have an enticing offer
Whether it be buying a product or signing up for emails, it is important to tell users what they will gain by doing so. After all, if they don't know the benefits of converting, it makes converting less enticing. Explain the benefits of converting. If we want them to subscribe for our email list, for example, tell them what kind of information they will gain, what potential special deals they could be sent, and so forth.
Make it easy to convert
Both physically and mentally, converting should be an easy decision to make. Meeting the customer where they are and laying out the benefits clearly already makes converting an easy decision mentally. But we also need to make sure it is easy to physically purchase our products, fill out our email forms, schedule a consultation, and so forth. It should be easy to find the add to cart button, for example. Forms are more likely going to be filled out if they only contain a few fields. Many times, making converting easy involves making the option to convert obvious and making the process short and sweet.
Want to learn more?
To boost conversion rates, we need to optimize our websites to create the best user experience we can. Check out our blog for more tips and tricks to improve your website and optimization process! If you want more hands-on guidance for improving your website, join the waitlist for Carrie Saunders' upcoming course, "The Converting Website." In this course, she will dive into a variety of important factors that aim to optimize your website.