Point of Sale Usage Instructions
Note: This mod is not currently integrated with X-Payments. Contact us if you are interested in this feature.
Configuring the Point of Sale Mod
Note: This needs to be done before using and only needs done once unless further changes are needed.
Picking the Payment Methods
Click the configuration icon in the upper right hand corner
Here you can select the differnt payment methods you would like to use with this module.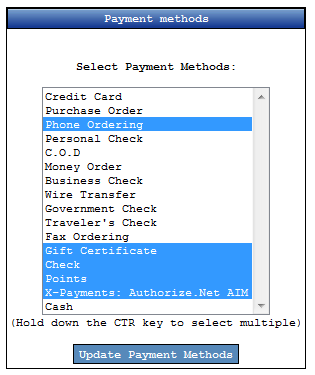 Using a virtual Credit Card terminal
Entering the URL of your virtual Credit Card terminal will allow you to use the terminal with credit card orders.

Config Options
The first check box allows credit card information to be pulled from previous customers.
If you don't want the order to be processed if the Credit Card fails select the 2nd check box.
The 3rd check box doesn't allow out of stock products to be ordered.
The 4th check box disables auto-product adding.
The next two check boxes can either display or hide the product thumbnail and sku
The default order status and email notifications for when order reaches a certain status can be set
Choose the extra fields to be included when searching for products.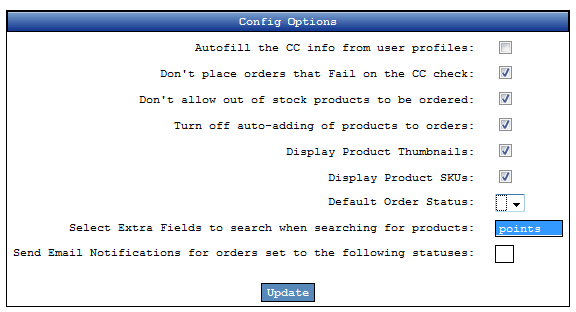 New Order
Selecting a customer
Click the New Order icon in the top right corner.
Now you can either search for existing or create a new customer
To create a new customer you must have their information. i.e. Personal, shipping, billing, and contact info
Once you have searched and found an existing customer you can simply click on their name to start the product searching.

Selecting a Product
Simply search for the product by name, description, or SKU
Or Select a category and select how to sort then hit Search
Once, the product has been searched then enter the quantity wanted and hit the "Add" button
You can now either search for different products to add or submit the order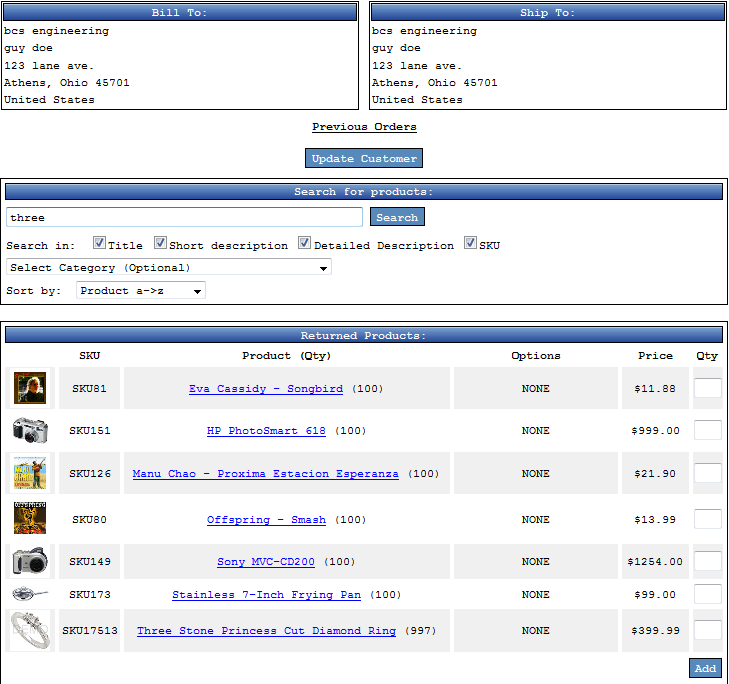 Checking Out
Checking out is now simple as the customer shipping, billing, and contact information is already ready.
Now just fill out the information given by the customer into the correct fields and hit the "Finalize Order" button.