PCI Compliance Made Easy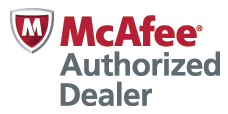 We now offer McAfee® PCI Compliance Service, a simplified and easy-to-use system that is optimized for Level 2, 3, and 4 merchants that need to successfully complete all requirements for PCI certification. Only $99/yr. – a 65% saving!
Affordable and reliable PCI compliance
The Payment Card Industry mandates IT security compliance for all merchants that process credit cards. McAfee® PCI Compliance Service is an easy-to-use system designed for smaller merchants that need to be PCI certified. It includes state-of-the art scanning, complete remediation and technical support, an online self-assessment questionnaire, and a PCI Wizard to help manage compliance activities.
Working directly with Visa International, McAfee developed an accurate and easy-to-use service that makes PCI compliance more affordable and more reliable for organizations of all sizes. Merchants can quickly complete all requirements with confidence. Complete your self-assessment questionnaire (SAQ), automatically initiate on demand scans for vulnerabilities and even generate the necessary PCI compliance reports and documentation.
How well does McAfee's PCI Certification Service work?
McAfee currently operates co-branded PCI compliance programs through partners such as PayPal and the U.S. Council of Better Business Bureaus, to manage the enrollment of more than 250,000 merchants and third-party service providers worldwide. Tens of thousands of organizations around the world—from government agencies and online retailers, to nonprofits and manufacturers—trust us to audit their initial and ongoing PCI compliance status.
Sign Up Today